📦 ENJOY FREE SHIPPING: 🇺🇸 USA $75+ 🌍 INT. $100+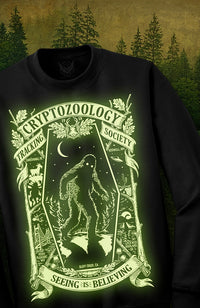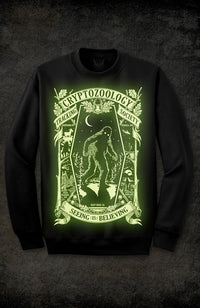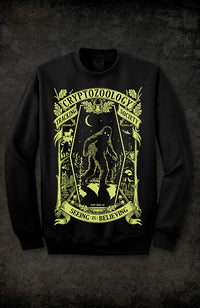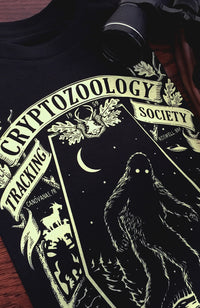 Unisex Cryptozoology Tracking Society Pullover
Regular Price

$ 52.00

Sale Price

$ 52.00

Regular Price

$ 52.00

Unit Price

per
THIS DESIGN GLOWS IN THE DARK!

Cryptozoology literally means "the study of hidden animals" - the term was first published in 1959 to describe the study of animals whose existence has not yet been proven.
As a tribute to this peculiar research, we've chosen some of Cryptozoology's most well-known cryptids (each within their own illustrated vignette), which are listed below:
• Sasquatch (Big Foot) - Bluff Creek, CA: In homage to one of the most famous Big Foot poses caught on camera.
• Chupacabra - Canóvanas, PR: This blood-sucker's lurking shadow approaches an unsuspecting herd of goats by moonlight.
• Moth Man - Point Pleasant, WV: Soars high above the Silver Bridge (which collapsed in 1967), some believe warning motorists of impending doom.
• Loch Ness - Highland, UK: In classic Loch Ness fashion, only a silhouetted neck and head are visible on this starry night.
• Aliens - Roswell, NM: A UFO on its descent in the desert above a lone cactus- classic.
• Jackalope - N. America: For good measure, a mounted Jackalope head takes it all in.
• "1959" - For those of you that like details, Cryptozoology, as a term, was first published in 1959.
Additionally, the design is complemented by tree branches, oak leaves and acorns, as well as, a banner at the bottom of the design, which declares, "Seeing is Believing."
Our version of the Cryptozoology "Tracking Society" does not really exist - if it did, its members would definitely rock this pullover. However, a real society for the study of cryptids does exist. In fact, some cryptids studied by this society, such as the famed giant squid, have been proven true.
SPECIFICATIONS:
• 80/20 Cotton Poly Blend

Please review the size below before ordering. If sizing is questionable it is suggested to order a size up.
• Small - Body Length 26.5" x Chest Width (1" below armhole) 20.5"
• Medium - Body Length 28" x Chest Width (1" below armhole) 22"
• Large - Body Length 29.5" x Chest Width (1" below armhole) 23.5"
• X-Large - Body Length 31" x Chest Width (1" below armhole) 25"
• 2X - Body Length 32.5" x Chest Width (1" below armhole) 26.5"

All designs © Maiden Voyage Clothing Co.™
Reproduction rights do not transfer with sale of items.
Great item! Material is soft and my husband loves it!
Most comfortable shirt
This cryptozoology shirt was a gift from my sister and I've had it worn as a favorite in house shirt for years. It's rad looking and glows in the dark. Most remarkable feature is how soft and comfortable it is. Great job!
Love it! A little more fitting but all in all, veeeery comfortable
A great gift for my cryptid obsessed friend, arrived speedily and in good condition!
I have ordered many different items from this shop in the past (clothing, prints, etc.) and they always provide excellent service and high quality products. This sweatshirt arrived quickly for an international order. The material is soft but good quality and the print is really beautiful and will withstand many many washes. I already have this design as a t-shirt and I always get a ton of comments on it! It's so fun & unique! 😊