📦 ENJOY FREE SHIPPING: 🇺🇸 USA $75+ 🌍 INT. $100+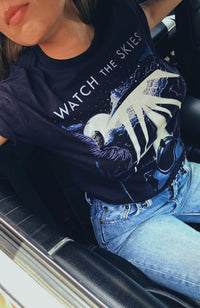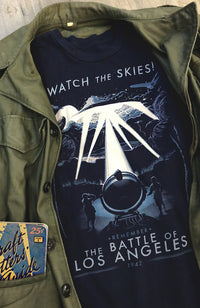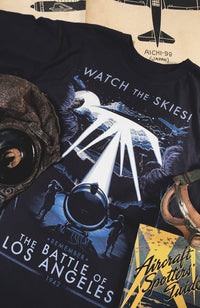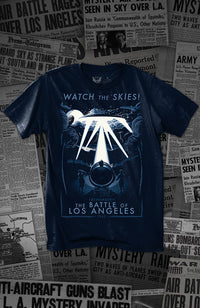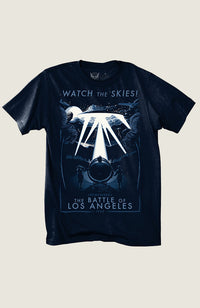 Battle of Los Angeles Unisex Tee
Regular Price

$ 32.00

Sale Price

$ 32.00

Regular Price

Unit Price

per
Celebrate one of the most witnessed UFO sightings in history with this new tee design!

Just months after the U.S. entered World War II, mounting fears of an invasion from Japan put U.S. coastal defenses on standby. And in the early morning hours of February 25th, 1942 they went into action when an unknown object was detected as it made its way inland towards Los Angeles from the Pacific Ocean. 🚨 Air raid sirens sounded, a total blackout was ordered for the city and surrounding areas, radio stations were ordered off the air and massive searchlights began scanning the sky for the unknown intruder. Then, just after 3am, the night erupted with the continuous sound of 💥anti-aircraft guns firing💥 on the object. Despite the constant barrage, the ship was unfazed by the attack and made its way slowly southward down the coast. At one point the firing ceased when the object was no longer seen, but began again when the object made its way back inland for a second time. After more than 1,400 direct rounds were fired in an attempt to knock down the mysterious invader, it was reported to have headed back out towards the Pacific Ocean until it could no longer be seen.
Witness accounts have added another layer of mystery to the event. 😮 Some claiming U.S. planes were in pursuit of the object, another mentions a downed 'plane' that was quickly cordoned off by local authorities, while some describe the object itself in great detail as they watched it fly overhead, and another tells of a secret Naval mission launched off the coast to retrieve the potentially downed craft from deep in the ocean.
SPECIFICATIONS:
• Navy color unisex shirt printed in shades of blue/white
• 100% Super-Soft-Vintage-Feel-Cotton
• Slightly fitted cut 
Please review the size chart below before ordering. Our shirts have a fitted cut - if sizing is questionable it is suggested to order a size up.
MEASUREMENTS:
• Small - Body Length 27 1/8" x Chest Width (1" below armhole) 18 1/2"
• Medium - Body Length 28 1/4" x Chest Width (1" below armhole) 19 3/4"
• Large - Body Length 29 1/4" x Chest Width (1" below armhole) 21 1/4"
• X-Large - Body Length 30 3/8" x Chest Width (1" below armhole) 23 1/4"
• 2X - Body Length 31 3/8" x Chest Width (1" below armhole) 25 1/4"
• 3X - Body Length 33" x Chest Width (1" below armhole) 28"
• 4X - Body Length 34" x Chest Width (1" below armhole) 30"
• 5X - Body Length 35" x Chest Width (1" below armhole) 32"
All designs © Maiden Voyage Clothing Co.™
Reproduction rights do not transfer with sale of items.
love the shirts people, thank you very much.
Love this company! Great prints
Absolutely love this shirt, the color and design are stunning, I was also very happy that it didn't have that gross chemically smell that some T-shirts have so I could put it on right away. Easily my new favorite shirt. Thank you!
Arrived quickly and looks great! Thank you!
Super soft and has glow in the dark parts which is awesome