📦 ENJOY FREE SHIPPING: 🇺🇸 USA $75+ 🌍 INT. $100+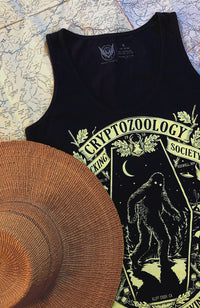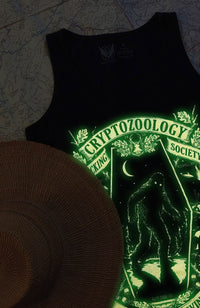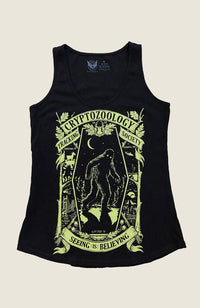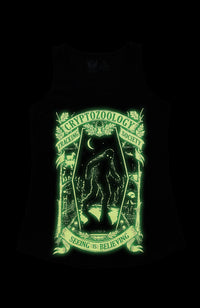 Cryptozoology - Glow in the Dark TANK
Regular Price

$ 32.00

Sale Price

$ 32.00

Regular Price

Unit Price

per
THIS DESIGN GLOWS IN THE DARK!

Cryptozoology literally means "the study of hidden animals" - the term was first published in 1959 to describe the study of animals whose existence has not yet been proven.
As a tribute to this peculiar research, we've chosen some of Cryptozoology's most well-known cryptids (each within their own illustrated vignette), which are listed below:
• Sasquatch (Big Foot) - Bluff Creek, CA: In homage to one of the most famous Big Foot poses caught on camera.
• Chupacabra - Canóvanas, PR: This blood-sucker's lurking shadow approaches an unsuspecting herd of goats by moonlight.
• Moth Man - Point Pleasant, WV: Soars high above the Silver Bridge (which collapsed in 1967), some believe warning motorists of impending doom.
• Loch Ness - Highland, UK: In classic Loch Ness fashion, only a silhouetted neck and head are visible on this starry night.
• Aliens - Roswell, NM: A UFO on its descent in the desert above a lone cactus- classic.
• Jackalope - N. America: For good measure, a mounted Jackalope head takes it all in.
• "1959" - For those of you that like details, Cryptozoology, as a term, was first published in 1959.
Additionally, the design is complemented by tree branches, oak leaves and acorns, as well as, a banner at the bottom of the design, which declares, "Seeing is Believing."
Our version of the Cryptozoology "Tracking Society" does not really exist - if it did, its members would definitely rock this tee. However, a real society for the study of cryptids does exist. In fact, some cryptids studied by this society, such as the famed giant squid, have been proven true.
SPECIFICATIONS:
• Super-Soft-Vintage-Feel 100% Cotton Tank
• Relaxed Fit, Curve Hem Tank - please review the sizing below before ordering
MEASUREMENTS:
• Small - Body Length 25" x Chest Width (1" below armhole) 16"
• Medium - Body Length 25.5" x Chest Width (1" below armhole) 17"
• Large - Body Length 26" x Chest Width (1" below armhole) 18"
• X-Large - Body Length 26.25" x Chest Width (1" below armhole) 19.5"
• XX-Large - Body Length 27" x Chest Width (1" below armhole) 21"
All designs © Maiden Voyage Clothing Co.™
Reproduction rights do not transfer with sale of items.
Print looks great, love it!
This tank has been in my cart months and I finally bought it! Not disappointed ❤️
Quality material. Good fit. Nice design. Love this tank top. Already received compliments on it. Will order more in the near future.
Very pleased with the top I purchased. Finally, some good quality screen printing!!
Finally a cute shirt with different cryptids! didnt know how much I needed it in my life, until i had it in my hands. love it!!!!