📦 ENJOY FREE SHIPPING: 🇺🇸 USA $75+ 🌍 INT. $100+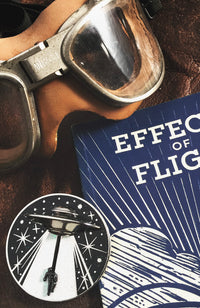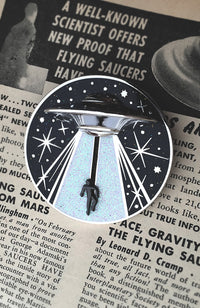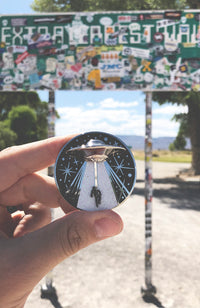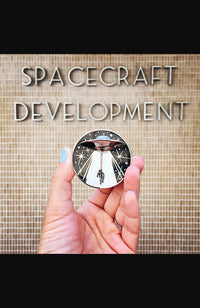 Alien Abduction UFO Soft Cloisonné Jumbo Action Pin
Regular Price

$ 25.00

Sale Price

$ 25.00

Regular Price

Unit Price

per
Whether you're an extraterrestrial or average human stuck on spaceship Earth, you can show your appreciation for close encounters of the fourth kind with the official Cryptozoology Tracking Society™ Alien Abduction jumbo-action pin!
This listing is for one collectible Alien Abduction Jumbo Action Pin.
Pin Specifications:
• 2"w x 2"h x ~5/8" D - Jumbo size!
• 3-D Flying Saucer
• Action pin - ***Human is abducted ALL THE WAY INTO saucer!***
• Black cosmic glitter with white rainbow glitter UFO beam
• Soft cloisonné
• High polished nickel finish
• Double clutch back, includes 2 black rubber clasps
• Pin back features the Maiden Voyage logo, CTS™ stamp and pin name so you know it's an authentic collectible!
***** WARNING: Collectible pins are not toys and may include small parts, which could pose a choking hazard to children. *****
*******************************************************************
PIN CARE/USE
***** PLEASE NOTE: Maiden Voyage Clothing Co. does not offer refunds or exchanges for items lost or damaged after purchase.
* This is a "Jumbo" size pin. This means it is heavier than standard size pins. To protect from accidental loss or damage from use, we highly recommend investing in locking pin-backs that are readily available on Amazon.com or Ebay.com.
* Also, be aware of what type of items you place your pin on. Placing your pin on items such as bags, purses and backpacks will greatly increase the chances of losing or damaging your pin than placing it on a stationary item, such as a hat, shirt or jacket lapel. When wearing your pin, we recommend it be placed so that the wearer can remain vigilant of it. We also highly recommend removing your pin after each use, to keep it nice looking (and to avoid accidentally getting it into the washing machine, loose, damaged, etc.).
* This is an "action" pin that involves delicate work. Even though we carefully test each pin for quality and durability, if the moving parts are overly abused (yanked or pulled too harshly), the anchor points may break. This is another reason we highly recommend removing pins after use to keep them safe and new. Maiden Voyage Clothing Co. cannot be held responsible for damages or loss resulting from misuse of pins.
*******************************************************************
All designs © Maiden Voyage Clothing Co.™
Reproduction rights do not transfer with sale of items.
It's such a fun and unique pin! It's absolutely beautiful and flawless. It was carefully and thoughtfully packaged and got to me extremely fast. I couldn't be happier :)
Out of this world quality.
Absolutely love this pin! Wow! Was shipped quickly and packed securely. Thank you!
Not as big of a wow factor as I was expecting, the dial to move the person up and down is very loose and the pin itself is heavy so I fear it could easily fall out or be spun upside down.